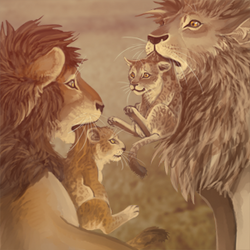 You first have the option to Transfer, on top left - it's a simple give away, one way transfer, where you enter recipent's ID and pick what to send, there's a confirmation system, to prevent any mistakes!
Trading is quite simple. To make a Trade, you name it, you pick what to put in it - Lionesses, Teens, items, money, whatever you want, as many as you want in one trade. Below, you enter what you'd like in return, and create the trade. (remember, any item or money put in trade will dissappear from your inventory to be in trade stash!)
Other players can make offers on your trade - and you can pick whichever you like best. Other offers will be automatically cancelled and their items/lions/beetles returned.
WARNING:
You can't put a pregnant or hunting lioness in trade.
You can't send a lioness that recently gave birth alone - her cubs will follow.
You cannot send a patrolling sub male.
Community content is available under
CC-BY-SA
unless otherwise noted.